Traffic Barricade Advertising
Traffic barricades are placed on roads and highways to restrict or redirect traffic. These are an important part of traffic control and are used to ensure the safety of drivers, pedestrians, and workers.
Advertising on Traffic barricades is typically used to promote local businesses or events. The barriers are usually decorated with a banner that contains safety signs on one side and Promoted Business information like logo, Services, and Contact Information on another side.
Police Traffic Barricades are placed on highways in order to control the speed of Vehicles that are passing on. Advertising on Police traffic Barricades Grabs the attention of the people traveling on vehicles when they control the speed of the vehicle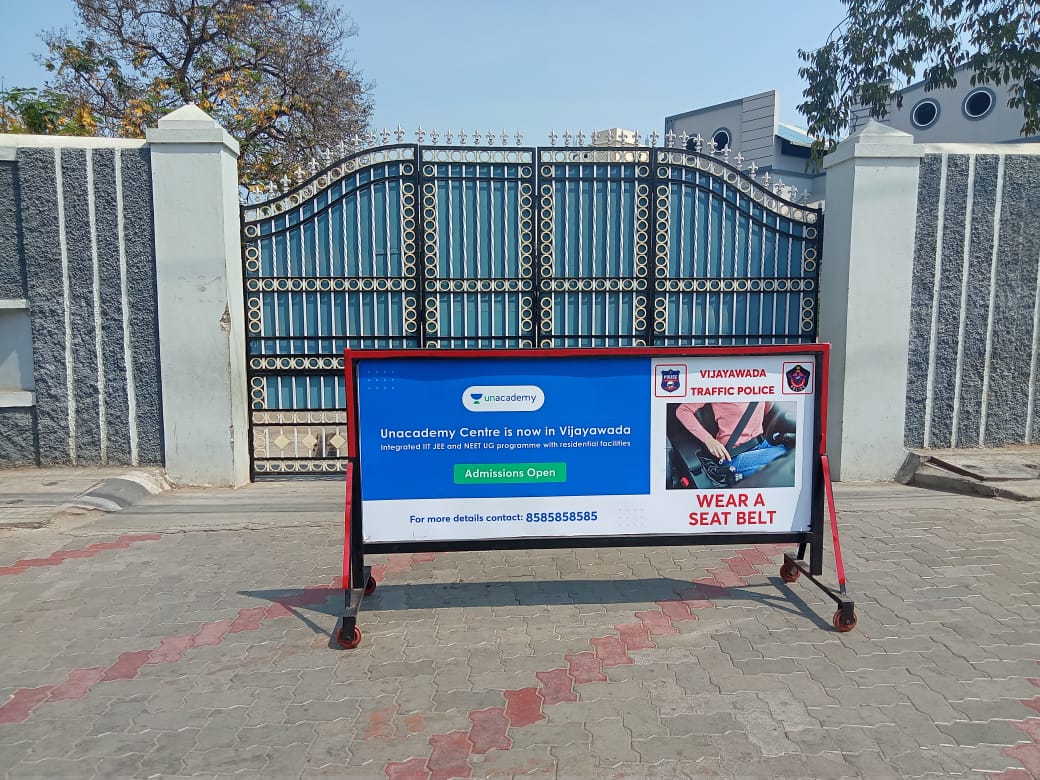 Why Branding on Traffic Barricade?
High Visibility:
Barricades are usually placed in high-traffic areas, which makes them highly visible to drivers and pedestrians. This is a good opportunity for advertisers to capture the attention of a large audience.
Customization:
Traffic barricades can be customized with branding, logos, and other advertising content. Advertisers can choose from various materials, such as vinyl, mesh, or fabric, to make their messages stand out.
Cost-effective:
Another great benefit of traffic barricade advertising is that it is a very cost-effective way to advertise. When compared to other forms of advertising, such as television or radio ads, traffic barricade advertising is very affordable. Additionally, because traffic barricades are often placed in high-traffic areas, you can be sure that a large number of people will see your ad.
Durability:
Traffic barricades are made to withstand harsh weather conditions and are built to last. This makes them a good investment for advertisers looking to promote their brands over an extended period.
How to Get the Most Out of Traffic Barricade Advertising
1. Keep it simple:
Your advertising should be easy to read and understand at a glance. Avoid using too much text or complex images that will be difficult to process while driving.
2. Make it bold:
Use bright colors and high-contrast graphics to ensure that your advertising stands out.
3. Use a call to action:
Tell drivers and pedestrians what you want them to do, whether it's visiting your website, calling your business, or stopping by your location.
By following these tips, you'll be sure to get the most out of your traffic barricade advertising and make a lasting impression on potential customers.
Traffic barricade advertising is a great option if you're looking for a way to get your business noticed in high-traffic areas. Contact Foxy Advertising for the best Traffic Barricade Advertising Services